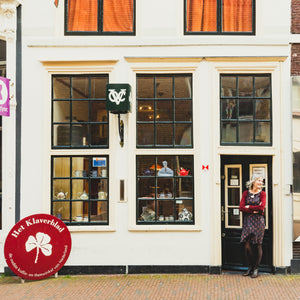 About Us
Het Klaverblad, the oldest still existing coffee and tea store was established in 1769. Ever since, the focus has been on selecting, tasting, and blending the best quality of coffee and tea from all over the globe.
The choice in high quality products is what our customers value: the comprehensive selection of the best tastes, both from well-known regions as from unknown, distant areas. Het Klaverblad makes all these choices in coffee and tea available to you. With over 150 different types of tea, 40 coffee flavours and dozens of infusions, everyone can find their preference.
Our online service is excellent, but if you have the chance, visit our physical store in Leiden. Smell the fragrances, feel the history, and experience coffee and tea on a different level!
Our History
Come and visit us!
Meet the world of coffee and tea!
Hogewoerd 15
2311HE Leiden, The Netherlands
Tuesdays to Fridays: 10am to 5:30pm
Saturdays: 9:15am to 5pm
What fans say about us on Google